Creating a home
away from home
RONALD MCDONALD HOUSE, MADRID
Spain
The Elecnor Foundation has embarked on its first social infrastructure project in Spain. This project is in conjunction with the Ronald McDonald Children's Foundation, whose global mission is to create and sustain programmes that directly improve the health and well-being of children.
AThese two Foundations are working together on Madrid's Ronald McDonald House. Ronald McDonald Houses provide accommodation worldwide for the families of hospitalised children, close to where the children are being treated. The objective is to provide a comfortable 'home away from home' offering support for family members during these harrowing times.
Elecnor has built the Madrid Ronald McDonald House on a turnkey basis in the grounds of the Niño Jesús Children's Hospital. Additionally, the Elecnor Foundation has contributed through the Energy Efficiency Project, together with the Elecnor Foundation Chair of Renewable Energy and Energy Efficiency, created jointly with Madrid's Polytechnic University.
The new House is the largest in Spain, with 3,000 square metres of floor space and 23 rooms with bathrooms and private terraces. It also offers communal facilities for sharing experiences, such as dining rooms, games rooms, computer areas and libraries to help children with their education.
Energy Efficiency Project
This Project aims to provide modern, sustainable, energy-efficient solutions that reduce the environmental impact and high annual running costs of a Ronald McDonald House.
The House's facilities have been designed using the most efficient technologies viable given the location of the building and its characteristics. The following technologies have been used:
Hot water production using solar power supported by a ground-source heat pump.
Hot and cold water production for climate control using ground-source heat pumps.
Solar panels for electricity generation.
The facilities have also been designed to optimise energy demand through intelligent temperature and lighting regulation and control systems.
Emission reductions
One measure of energy efficiency is comparing the CO2 emissions of an installation against equivalent conventional installations.
In the case of heating, we compare efficiency against a natural gas boiler with 90% efficiency, whilst for cooling, the comparison is against a variable refrigerant volume (VRV) pump.
CO2 balance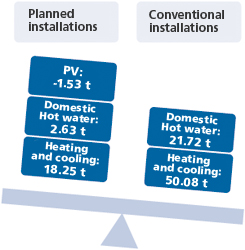 The efficiency of the planned installations reduces their environmental impact by a quarter, achieving the same impact as planting over 8,700 trees.
CO2 emission summary
| | |
| --- | --- |
| CO2 emissions Planned installations | 19.35 t |
| CO2 emissions Conventional installations | 71.80 t |
| Yearly CO2 emission reductions | 52.45 t |